Bankruptcy law provides for the reduction or elimination of certain debts, and can provide a timeline for the repayment of non-dischargeable debts over time. It also permits individuals and organizations to repay secured debts.
Bankruptcy is the legal process where an individual files a petition for the court to discharge all of his or her debts. Most individuals apply for either Chapter 7 or 13 of the bankruptcy code. Chapter 7 usually takes between four to six months to be completed. Chapter 13, however, can take between three to five years to be completed. in all cases, the bankruptcy court appoints a trustee to oversee the bankruptcy even if he or she is not legal in the U.S.
vacio
Chapter 7 of the bankruptcy code.
Filing for bankruptcy under chapter 7 is the most common chapter used by debtors. It eliminates credit cards debt, medical bills, personal loans, and other unsecured liabilities so as to give you a fresh financial start. Most importantly, chapter 7 can also eliminate the deficiency balance on surrendered cars and real estate. However, filing for bankruptcy under chapter 7 will not eliminate student loans, recent taxes and child support debt.
Once the petition for bankruptcy has been filed with the Federal Court, an automatic stay immediately goes into effect. This provision prevents creditors from making direct contact with you or staking a claim on any of your property from the day of filing forward. This will also stop any foreclosure proceedings.
As part of the chapter 7 bankruptcy processes, the debtor is required to receive a credit counseling certificate from an approved credit counseling agency before filing. In addition, the debtor must complete a debtor education course after the petition for bankruptcy is filed so as to get a discharge of all of his/her listed debts.
One disadvantage of chapter 7 is that the Trustee may sell your non-exempt assets so as to pay your creditors. Chapter 7 requires the liquidation of non-exempt assets so as to grant a discharge to the debtor. However, most chapter 7 filers do not have non-exempt assets, and there is usually no sale of property in chapter 7 bankruptcy cases. Exempt assets that are protected from being sold in chapter 7 bankruptcy cases vary from state to state, but typically include the filer's primary residence, personal property, vehicle and tools.
The Bankruptcy Code has an income requirement to qualify under chapter 7. Your income must be analyzed for the last six months to determine if you satisfy the "means test" requirements under chapter 7. To apply the means test, the Bankruptcy Court will look at your average income for the six months prior to filing and compare it to the median income for that state. If the income is below the median, then you may choose to file under chapter 7. If your income exceeds the median income, the remaining parts of the means test will be applied to determine if you can file under chapter 7 or if you must file under chapter 13.
Finally, the bankruptcy process under chapter 7 takes between four to six months to complete.
Chapter 13 of the bankruptcy code.
This Chapter is applicable for individuals with regular income, unsecured debt of less than $336,900.00 and secured debt less than $1,010,650.00. One important aspect of Chapter 13 is that it allows the debtor to keep his or her property. Chapter 13 requires that the debtor makes monthly payments to the Trustee out of future income to pay creditors over the life of the plan. This plan can take either three or five years. The level of repayment depends on the debtor's income and the composition of the debt. Another advantage of Chapter 13 is that it allows the discharge of some debts which cannot be discharge under Chapter 7. Most importantly, Chapter 13 also provides a mechanism for individuals to prevent foreclosure and repossessions of their home while catching up on their secured debt repayments.
If you are facing a Bankruptcy Case, call for a FREE consultation with Attorney Juan J. Mendoza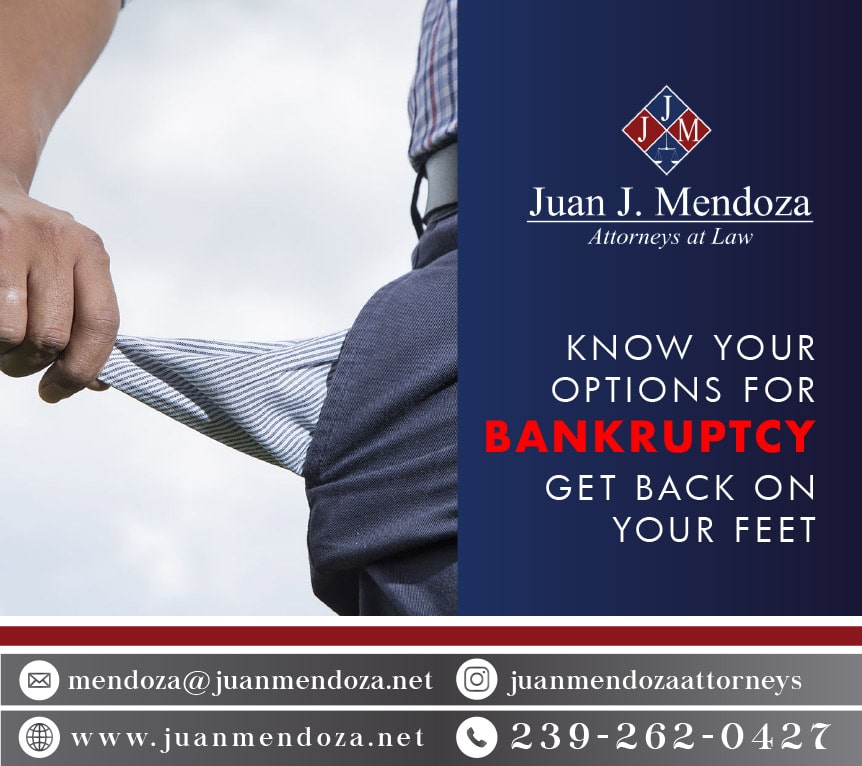 Please contact our office with one of our attorneys

The information on this website is for general information purposes only. Nothing on this site should be taken as legal advice for any individual case or situation. This information is not intended to create, and receipt for viewing does not constitute an attorney-client relationship. TypeCopyright © JUAN MENDOZA. All rights reserved.